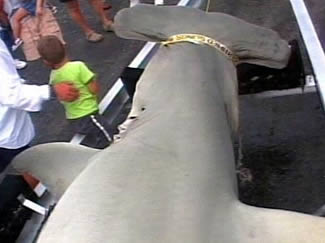 Report: World-Record Pregnant Hammerhead Caught Off Florida was Carrying World-Record 55 Pups
Sarasota, Florida (Jun 29, 2006 20:27 EST) A great hammerhead shark caught by a recreational fisherman in Boca Grande in May was pregnant, scientists at Mote Marine Laboratory confirmed after a necropsy on the animal.
The shark was measured at 14 feet long and 1,280 pounds, with its hammer measuring more than 3 feet across. At the time the shark was brought to Mote, scientists believed it may have been pregnant because its girth was so wide. The necropsy, or animal autopsy, confirmed that.
Other notable findings from the necropsy:
* This hammerhead's reproductive tract weighed nearly 250 pounds
* Her stomach contained a whole southern stingray, believed to be the fisherman's bait, and the rear half of an approximately 5-foot-long tarpon, in addition to numerous tarpon scales. The shark also had a small fishing hook inside her stomach.
* Her liver weighed more than 100 pounds.
* Some of the pups are being saved for future study and scientists have taken samples to be analyzed for genetic makeup. The samples will provide information about the number of males that fathered the pups.
JUST GREAT! PROMOTE SHARK FISHING AND KILLING BY SYAING THINGS LIKE OH ITS GREAT FOR SCIENCE