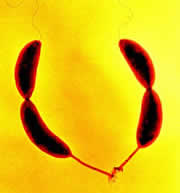 Bloomington, Indiana (Apr 12, 2006 18:33 EST) The glue one species of water-loving bacteria uses to grip its surroundings may be the strongest natural adhesive known to science. If engineers can find a way to mass-produce the material, it could have uses in medicine, marine technology and a range of other applications.
Researchers at Indiana University in Bloomington and Brown University in Providence, R.I., studied how much force they needed to tug the tiny, stalked Caulobacter crescentus off a glass plate. As the researchers reported in the Apr. 11, 2006, Proceedings of the National Academy of Sciences, the bacteria grip with a force of 70 newtons per square millimeter--roughly 5 tons per square inch--or equivalent to the downward force exerted by three cars balancing on a spot the size of a quarter. While the researchers do not yet know if the substance is the strongest glue on Earth, it is stronger than cyanoacrylate superglues found on store shelves and may be rivaled only by a few synthetics.
There are alot of other cool articles on
Underwater Times
.